Products
SHIVA-NRCS-1016 TiO² UVC Air Sterilisation Kit
Sterilise your air the simple way using your existing AC or Fan Coil System
Medical: Hospitals, Pharmaceutical Factories, Operating Rooms, Isolation Wards, Blood Stations, Rehabilitation Centres, GP Doctors Surgery's, Dental Surgery's, Opticians, etc.
Industrial: Electronics Factories, Optics Factories, Plastic & Hardware Factories, Cosmetic Factories, Food Factories, Commercial Prep Kitchens, Sanitaryware Distributors, Plumbing/Electrical/Trade Related Distributors, etc.
Office Buildings: Telecommunications, Web Support Centres, Call Answering Centres, Private Serviced Offices, Open-Plan Shared Workspaces, Local Government Offices, Banking Sector, etc.
Public Spaces: Airports, Bus Stations, Train Stations, Hotels, Gyms/Leisure Centres, Libraries, Supermarkets, Department Stores, Tourist Attractions, Museums, Exhibition Halls, etc.
Retail: Furniture Showrooms, Kitchen Showrooms, Bathroom Showrooms, Car Showrooms, Toy Stores, Beauty Salons, Pharmacies, Cafes, Restaurants, Bars, Off-Licences, Newsagents, etc
OEM Product designed and manufactured exclusively for Shiva Air Conditioning (in R&D since March 2020)

Long Lifespan (10,000 hours / 3 years)

Silent Operation

Medical Grade 254nm UVC & 405nm UVA LED's

Nano-Titania TiO² Filters or Atomiser Spray Solution, for Dual UVC & Photocatalysis Sterilisation

Proven to deactivate airborne bacteria and viruses including H1N1, Rhinoviruses, and Coronaviruses, along with with multiple other Allergens, Pollutants, & Odours (Independently tested)
No Ozone

No Mercury

Local On/Off Function via wireless remote control, or Wi-Fi Control as standard (Maximum 50 Kits controlled from each Group, up to 200 Groups programmable)

Individually name and control multiple systems all via 1 easy to use app

Fits most types of Indoor Fan Coil, VRF, & Split Type units

Can be installed by any AC Contractor

Average 15–20 minutes installation time.

Whats in the Box:
2 x SHIVA-NRCS-1016 UVA+UVC LED Lamps c/w built-in Driver & Wi-Fi Module,

Wireless Wall Mounted Remote Controller for Manual On/Off Function,

Wireless Keychain Remote Controller for Manual On/Off Function,

TiO² Coated PM2.5 Photocatalyst Filters (HQ Nano-Titania – 99.995% Purity),

WiFi Setup Manual,

UV Radiation Warning Sticker,

Installation Manual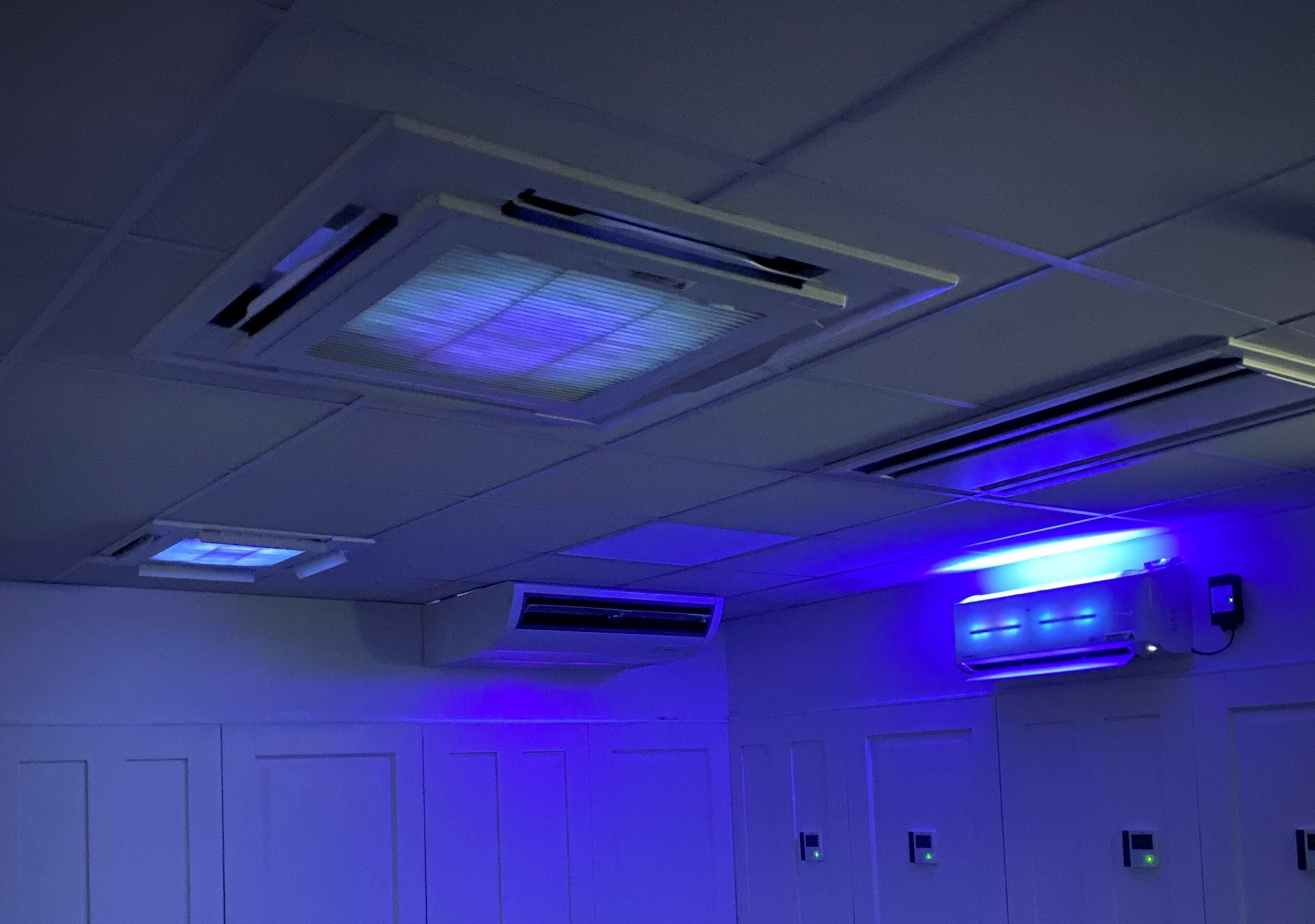 Air Quality changes on our Test Unit after just 30 Minutes Operation

 
5.6kw High Wall Unit Split System, Room Size: 7m x 8m

 

 
UVC Leak detection check is carried out at 200mm around unit to ensure no UV Leakage

Note: AC Front Panel is only open to demonstrate UVC Sterilisation Kit in operation for this photo
Come and test this product working, and witness the results yourself, in person at our Ballymount Showroom
Require a large quantity of this product? Contact us today to discuss your needs