Shiva OEM Products: Patented & Certified
Sterilise and Purify your air the simple way with HEPA Filter Dublin !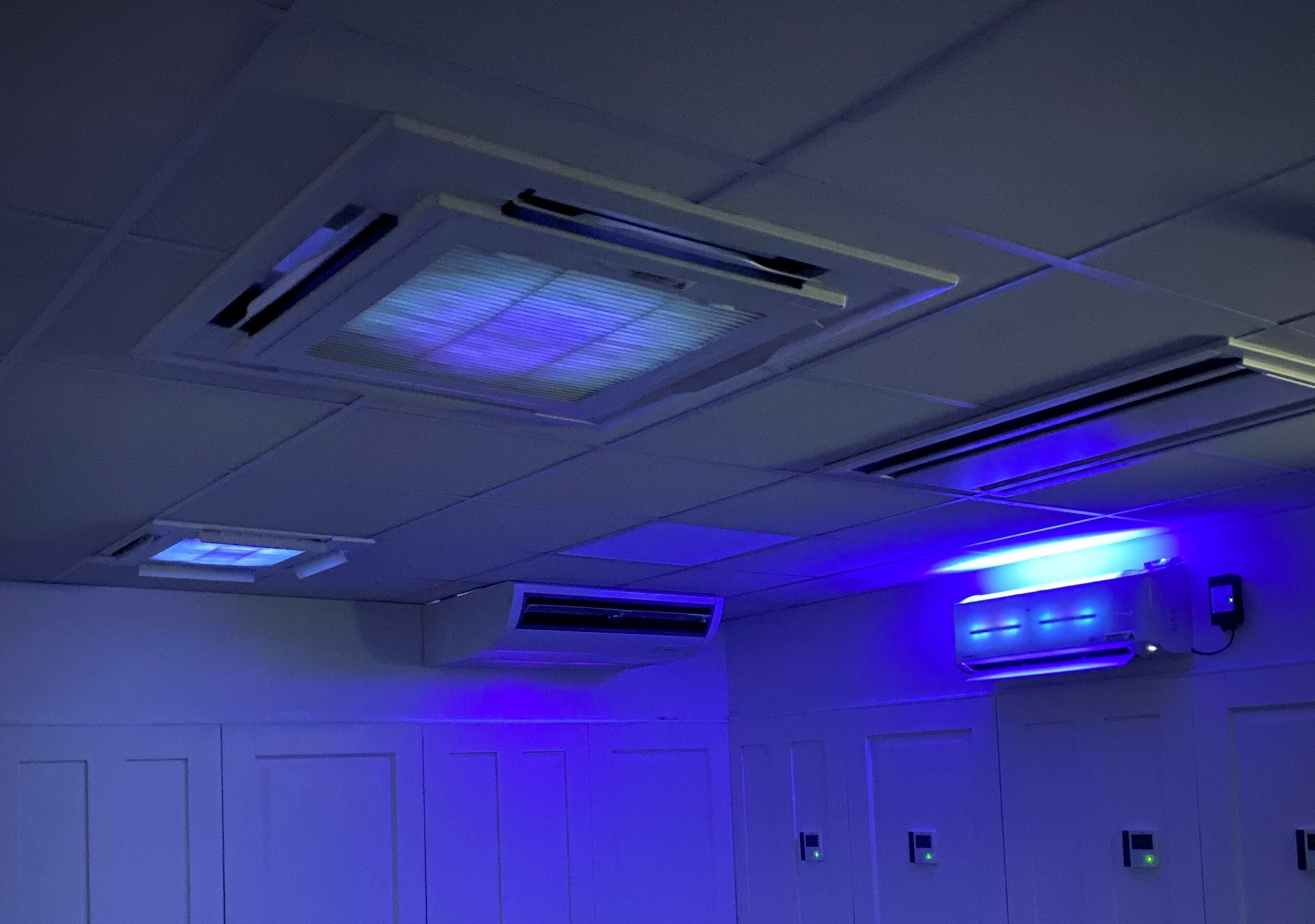 NRCS-1016
TiO² UVC LED Air Sterilisation Kit
Retro-fit into new or existing AC Split, Fan Coil, or VRF Systems. HEPA Filter Dublin
Application Settings:
Medical

Industrial

Office Buildings

Public Spaces

Hospitality, Retail, & Hotels
Key Features:
Long Lifespan (10,000 hours / 3 years)

Silent Operation

Designed utilising Medical Grade 254nm UVC & 405nm UVA LED's

Utilises High Quality Nano-Titania TiO² Filter for Dual UVC & Photocatalysis Sterilisation

Proven to deactivate airborne bacteria and viruses including H1N1, Rhinoviruses, and Coronaviruses, along with with multiple other Allergens, Pollutants, & Odours (Independently tested)

No Ozone, No Mercury, – Safe to operate in live environments

Local On/Off Function via remote control, or Wi-Fi Control with 7 Day Schedule Timer as standard

Individually name and control multiple systems all via 1 easy to use app

Fits most types of Indoor Fan Coil, VRF, & Split Type units

Can be installed by any AC Contractor- you can use your current provider

Average 15–20 minutes installation time
CAP-03
The In-Car Sterilisation Solution
Sterilise your car in 30 minutes or less!
Powered via USB-C Cable (included)
Application Settings:
Cars

Vans

Taxi's

Trucks/Lorries

Fleet Vehicles
Key Features:
Inhalable Particles
Toluene Formaldehyde
Pollutants & Odours
Pollen & Other Allergens
Bacteria, Germs & Viruses
Plug & Play Installation

CADR 15m³/hr – Perfect for vehicles

Long Lifespan (10,000 hours / 3 years)

Silent Operation

Designed utilising Medical Grade 254nm UVC & 405nm UVA LED's

Nano-Titania TiO² Metal Filter for Dual UVC & Photocatalysis Sterilisation

No Ozone, No Mercury, – Safe to operate while driving

Easy single touch ON/OFF Operation

Colour changing indicator to let you know when air is clean
NRP50
SHIVA-NRP50 Commercial Grade Air Purifier
Air Sterilisation with Indoor Air Monitoring, Plug & Play, Serves areas up to 60m²
Application Settings:
Schools

Colleges

Open Plan Work Areas

Retail/Medical Settings

Bars & Restaurants
Key Features:
HEPA13 Filter
Active Carbon Filter
TiO² Photocatalyst Filter
Anion Ioniser
Philips® UVC Lamps
Serves Rooms up to 60m²

Air Sterilisation – Enables windows to be kept closed during colder weather periods.

Utilises Philips® Cold Cathode UVC Lamps (No Harmful By-Products Produced)

Proven to deactivate airborne bacteria and viruses including H1N1, Rhinoviruses, and Coronaviruses, along with with multiple other Allergens, Pollutants, & Odours (Independently tested)

Local On/Off Function via Touchscreen, or Wi-Fi Control with 7 Day Schedule Timer as standard

Displays live environment Air Quality readings (PM2.5 & VOC's) integrated CO2 Monitor, Room Temperature, Humidity %

'Auto Shutoff' Safety Function if Filter/UVC Panel is accidentally opened while turned on