our Products
Patented and certified Shiva OEM products.
The easy way to clean and sterilise your air!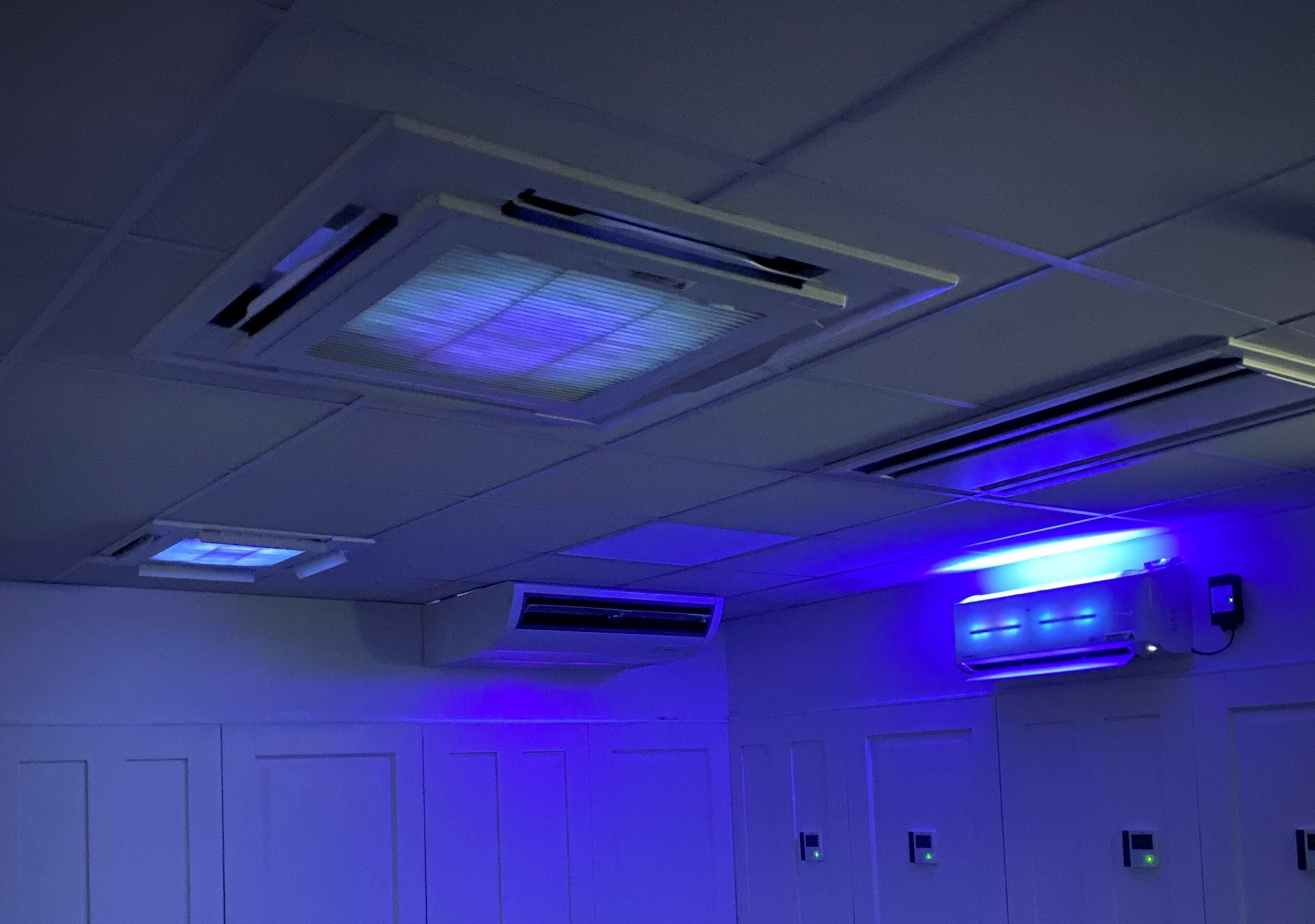 NRCS-1016
TiO² UVC LED Air Sterilisation Kit
Retro-fit into new or existing AC Split,
Fan Coil, or VRF Systems
Application Settings:
Medical
Industrial
Office Buildings
Public Spaces
Hospitality, Retail, & Hotels
Key Features:
Long Lifespan (10,000 hours / 3 years)
Silent Operation
Designed utilizing Medical Grade 254nm UVC & 405nm UVA LEDs
Utilises high-quality Nano-Titania TiO²  for Dual UVC and photocatalysis Sterilisation
Proven to deactivate airborne bacteria and viruses including H1N1, Rhinoviruses, and Coronaviruses, along with multiple other Allergens, Pollutants, and odors (Independently tested)
No Ozone, No Mercury, – Safe to operate in live environments
Local On/Off Function via remote control, or Wi-Fi Control with 7-Day Schedule Timer as standard
Individually name and control multiple systems all via 1 easy to use app
Fits most types of Indoor Fan Coil, VRF, & Split Type units
Can be installed by any AC Contractor- you can use your current provider
Average 15–20 minutes installation time
CAP-03
The In-Car Sterilisation Solution
Sterilise your car in 30 minutes or less!
Powered via USB-C Cable (included)
Application Settings:
Cars
Vans
Taxi's
Trucks/Lorries
Fleet Vehicles
Key Features:
Inhalable Particles
Toluene Formaldehyde
Pollutants & Odours
Pollen & Other Allergens
Bacteria, Germs & Viruses
Plug & Play Installation
CADR 15m³/hr – Perfect for vehicles
Long Lifespan (10,000 hours / 3 years)
Silent Operation
Designed utilising Medical Grade 254nm UVC & 405nm UVA LED's
Nano-Titania TiO² Metal Filter for Dual UVC & Photocatalysis Sterilisation
No Ozone, No Mercury, – Safe to operate while driving
Easy single touch ON/OFF Operation
Colour changing indicator to let you know when air is clean
NRP50
Plug & Play for Immediate Improvement
Air Sterilisation with IAQ Monitor
Serves areas up to 60m²
Application Settings:
Medical Settings / Hospitals
Dental / GP / Care Homes
Open Plan Work Areas
Schools & Colleges
Retail, Bars & Restaurants
Key Features:
HEPA13 Filter
Active Carbon Filter
TiO² Photocatalyst Filter
Anion Ioniser
Philips® UVC Lamps
Serves Rooms up to 60m²
Air Sterilisation – 4-Log (99.997%) deactivation. Ideal for IPC with no harmful by-products produced.
Proven to deactivate airborne bacteria and viruses including H1N1, Rhinoviruses, and Coronaviruses, along with with multiple other Allergens, Pollutants, & Odours (Independently tested)
Local On/Off Function via Touchscreen, or Wi-Fi Control with 7 Day Schedule Timer as standard
Displays live environment Air Quality readings (PM2.5 & VOC's) integrated CO2 Monitor, Room Temperature, Humidity %
'Auto Shutoff' Safety Function if Filter/UVC Panel is accidentally opened while turned on