Products
SHIVA-NRP50 Commercial Grade Air Purifier
Plug & Play Air Sterilisation Solution, with Air Quality Monitor
Ideal for medical settings, offices, schools, bars, restaurants
Does your business still require to upgrade, or improve your current ventilation requirements to meet the new guidelines?
Does it require for ceilings to be removed to install new ducts, or does it involve other costly disruptive works inside your business premises?
We at Shiva have an out of the box solution, measuring just 645mm x 440mm x 230mm and utilising our patented Air Sterilisation technology to simulate ACH (Air Change Per Hour) without producing any harmful By-Products.
(HARMFUL BY-PRODUCTS INCLUDE BUT NOT LIMITED TO: OZONE, IRRADIATION, RADICALS, ETC)
Protect your Business, Staff, Customers, and reduce absenteeism all while creating the healthiest and safest indoor environment possible.
The NRP50 is proven to deactivate airborne bacteria and viruses including H1N1, Rhinoviruses, and Coronaviruses, along with with multiple other Allergens, Pollutants, & Odours (Independently tested). Don't be tricked into HEPA products on the market claiming to do something they physically cannot.
Protect your Cashflow! Lease to Buy Finance Available on Qty's of 3 to 300+ of this product – Don't Rent and return it, Buy it!
Own each NRP50 from just €7.56 per week* Repayment terms available include 24, 36, 48, or 60 month options. Extended warranty on all lease to buy options. Option to include replacement filters and lamps costs for 1 single monthly payment. Contact us for more information or visit our Finance Option page on the Website.
Important Product Note for the Irish Markets: (updated 4/01/2022)
The SHIVA-NRP50 Commercial Grade Air Purifier was designed to operate based on patented Shiva Air Sterilisation Technology. This means it can operate internally even with windows closed (unlike traditional HEPA Air Purifiers which still require an adequate form of ventilation). The technology was designed and patented by one of the SHIVA Directors in March 2018, and is fully NRTL tested & certified to deactivate airborne bacteria and viruses including H1N1, Rhinoviruses, and Coronaviruses, along with with multiple other Allergens, Pollutants, VOC's & Odours.
Please be wary of new 'pop-up' air purifier companies making wild claims without any testing & certification to back them up. The only 2 manufacturers officially endorsed & approved for IPC Air Sterilisation purposes by the NHS in UK & Ireland are SHIVA & RADIC8 Products. There are currently no products officially approved by state bodies such as the HSE, Dept. of Education, nor any governing body in Ireland, you can contact any of the above bodies to confirm this fact. As of the above date, the Air Purifier sector is still unregulated in Ireland, allowing dangerous & uncertified products be sold on our shores. Do your research before deciding on the right product for you. We do not use ambush marketing or celebrity endorsements, just independently certified NRTL data-driven results.
Where convenient, we always recommend new customers to book an appointment to see the product working in a live environment, and witness the results with your own eyes. We also have all official testing results available for review in our Ballymount, Dublin 24 offices, or can be provided for review digitally.
Medical:

 

Hospitals, Waiting Rooms, Isolation Wards, Admin Offices / Stations, Care Homes, Rehabilitation Centres, GP Doctors Surgery's, Dental Surgery's, Opticians, etc.
Public Spaces:

Schools, Colleges,

Airports, Bus Stations, Train Stations, Hotels, Gyms/Leisure Centres, Libraries, Supermarkets, Department Stores, Tourist Attractions, Museums, Exhibition Halls, etc.
Office Buildings:

 

Telecommunications, Web Support Centres, Call Answering Centres, Private Serviced Offices, Open-Plan Shared Workspaces, Local Government Offices, Banking Sector, etc.
Retail:

 

Furniture Showrooms, Kitchen Showrooms, Bathroom Showrooms, Car Showrooms, Toy Stores, Beauty Salons, Pharmacies, Cafes, Restaurants, Bars, Off-Licences, Newsagents, etc
DESIGNED IN IRELAND UTILISING PATENTED TECHNOLOGY HELD BY US SINCE 2018.
SHIVA AIR STERILISATION PRODUCTS CONTINUOUSLY, AND UNOBTROUSIVELY, IMPROVE INDOOR AIR QUALITY WITHOUT PRODUCING ANY HARMFUL BY-PRODUCTS.
THE PREFERRED AND TRUSTED CHOICE FOR IPC (INFECTION PREVENTION CONTROL).
FOR USE IN AREAS WITH POOR VENTILATION, OR TO FURTHER SUPPLEMENT EXISTING VENTILATION IN ANY SETTING.
NOT TO BE COMPARED WITH CHEAP UNCERTIFIED AIR PURIFIERS ON THE IRISH & UK MARKETS!
700+ PAGES OF INDEPENDENT NRTL TESTING REPORTS AVAILABLE FOR REVIEW
PROTECT YOUR CASHFLOW- LEASE TO BUY FINANCE IS AVAILABLE ON THIS PRODUCT
5 Stage Air Filtration & Sterilisation
HEPA13 Filter

Activated Carbon Filter

Shiva TiO² Photocatalyst Filter

Integrated Anion Ioniser

Philips® UVC  Lamps (254nm) x 2
SHIVA-NRP50 Product Details:
Deactivate Pollen, Allergens, Bacteria, Germs, & Viruses each and EVERY Air Pass
Proven to deactivate airborne bacteria and viruses including H1N1, Rhinoviruses, and Coronaviruses, along with with multiple other Allergens, Pollutants, VOC's & Odours
All products Independently tested by SGS, G-Micro & TUV Rheinland
Designed to be safe to use around people in a live working environment
Serves areas 60m², use multiple units to serve larger areas
CADR 620m³/h – Low Speed Auto Mode
CCM (Particles) P4     /    CCM (Formaldehyde) F4
Plug & Play Solution- Perfect for areas with no natural ventilation
Utilises Philips® Cold Cathode UVC Lamps (No Ozone Produced)
Displays live environment Air Quality readings (PM2.5 & VOC's) integrated CO2 Monitor
Local On/Off Function via Remote Control, Touchscreen, or Wi-Fi Control with 7 Day Schedule Timer
'Auto Mode' adjusts fan speed as required resulting in minimal operation noise
'Auto Shutoff' Safety Function if Filter/UVC Panel is accidentally opened while turned on
Easy Maintenance, includes a washable Pre-Filter to increase lifespan of HEPA13 Filter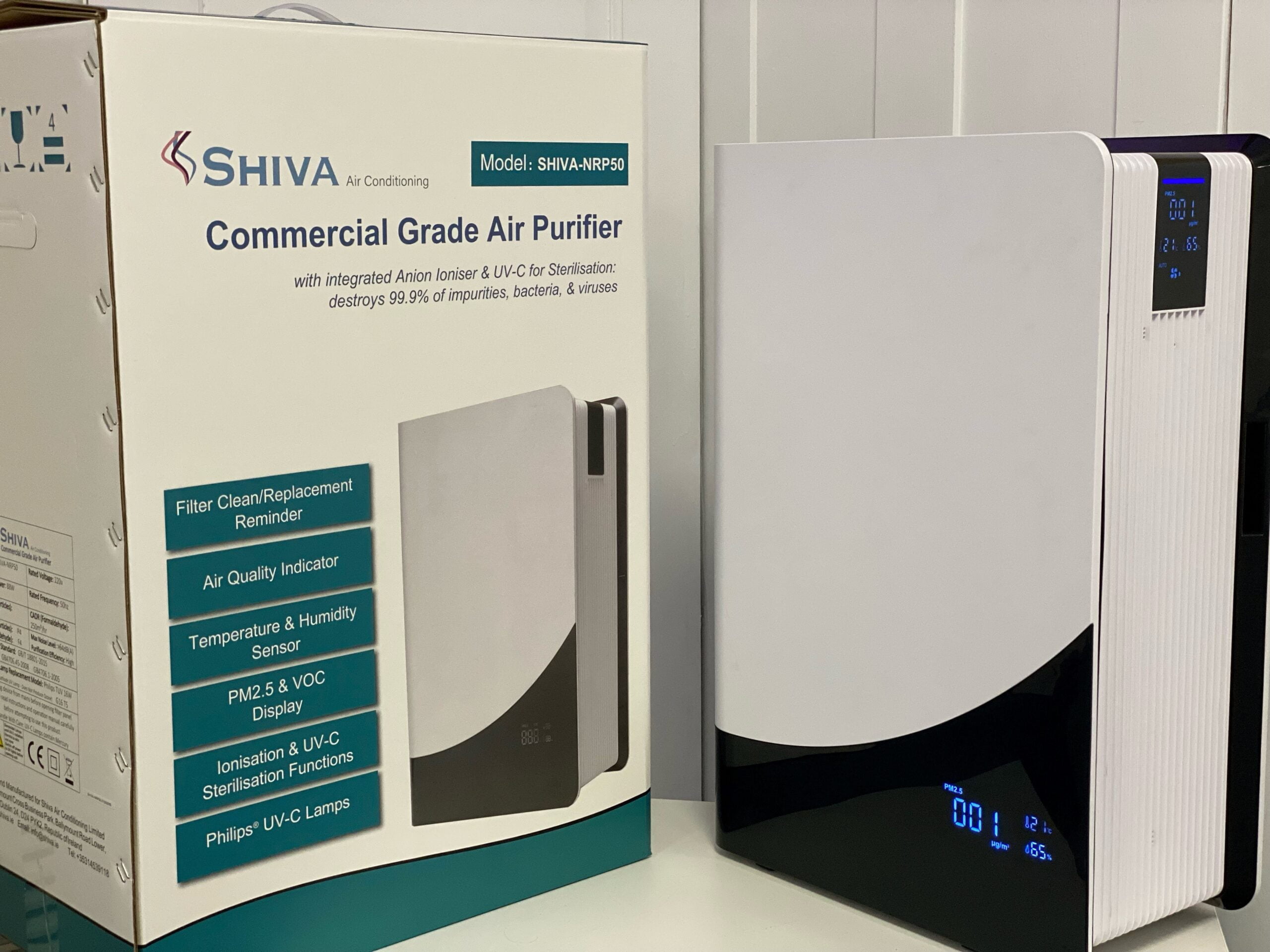 Require a large quantity of this product? Contact us today to discuss your needs